We work with experienced base contractors who can construct a suitable concrete, paving slab or compacted gravel base for your new building. If you wish to use your own contractor we will supply the correct dimensions and specifications (and please see the guidelines below).

BASES

It is important that the base is firm and level all over so that the building sits in correct alignment when installed. Please check that your base is within 5mm of level all over before we assemble your building on it. Base bearers will be necessary if the base is more than 5 mm out of level. The base must be "square" and of the correct size. "Correct size" is usually the metric size of your building (unless it is a garage or a shed with no floor in which case we will give very specific sizes for the base). If the base is done to the exact size and shape it prevents water from going underneath the building and from splashing up against the bottom edges. If the base is bigger than your building we recommend that base bearers are used.
Slab Bases - slabs used in a base should be plain and smooth, (no riven surface), then the runners of the floor section can be placed directly down onto the slabs. There needs to be a 5:1 sharp sand/cement sub base underneath the slabs of approximately 2in / 50mm deep. The slabs should sit 50mm above surrounding ground.
Concrete Bases - if the base is concrete it must be level all over and straight to the edge (PLEASE LET YOUR BUILDER KNOW - NO TROWELLED EDGE) and a minimum of 4 inches (100mm) thick, with some hardcore underneath (and sometimes wire mesh reinforcing depending on the ground). The base top should be 50mm above surrounding ground, not less. The base must be "square".
In some cases pressure treated bearers are used to form a base, often being laid on a compacted gravel bed. If you would like assistance with a slab or concrete base please let us know at the time of order – we can offer a base construction service in most instances.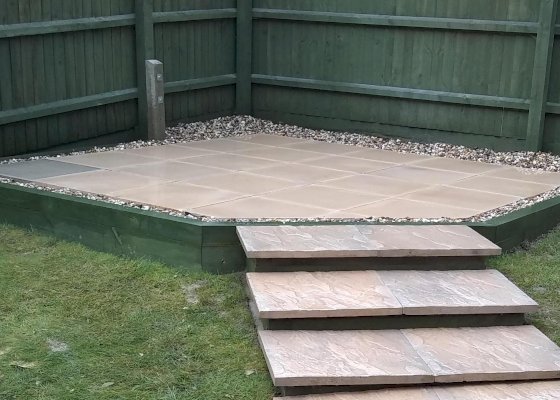 WHERE TO PLACE A BUILDING
Please allow 18 inches / 450mm distance between the new shed base and other structures like fences. This gives a good maintenance clearance gap. If you wish to place the building closer than this, please check with us first so we can advise on the absolute minimum required for your particular building, for example to accommodate roof overhangs.
Things to consider when deciding where to place your garden building:
• Trees and large bushes – overhanging branches could cause problems if they are likely to grow and come into contact with the building in the future. Please cut these branches in advance. Once the garden building has been assembled, please check overhanging foliage regularly as any rubbing on the roofing felt may damage it.
• Access to the building – as already mentioned, leave space (approximately 18in - 2 feet (450mm – 600mm)) for access around each side of the garden building to apply wood treatments or preservative in the future. If the building is going very close to a wall or fence, it should have an extra coat of Sadolin Classic or similar on the inaccessible side before being assembled.
• Convenient position - visualise what the garden building will look like in the position selected – you may not want to carry large or heavy objects down to the end of your garden. You may want to consider where the building is most likely to receive daylight or have a nice view, especially for buildings such as summerhouses.
• Electricity or water supply – if you require either of these, consider where the supply is coming from and how easy / expensive it will be to connect, given the distance to take it to the building.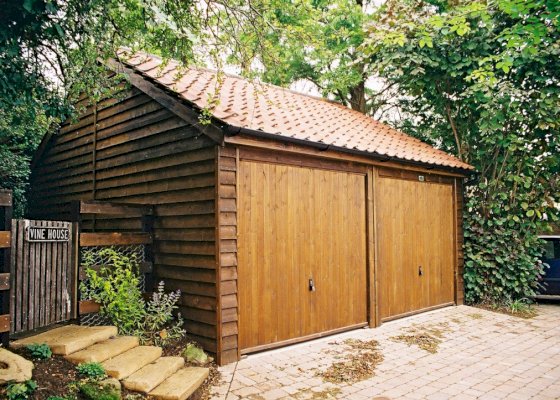 This compacted gravel base was constructed with a retaining sleeper at the back to hold the earth back on one side and the shed will sit on base bearers inside the perimeter formed by the gravel boards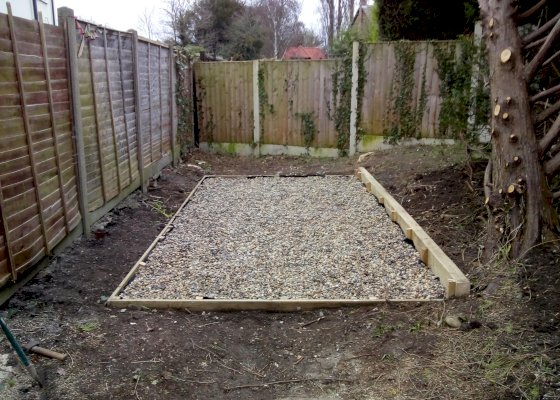 An example of a slab base with sand/cement sub base.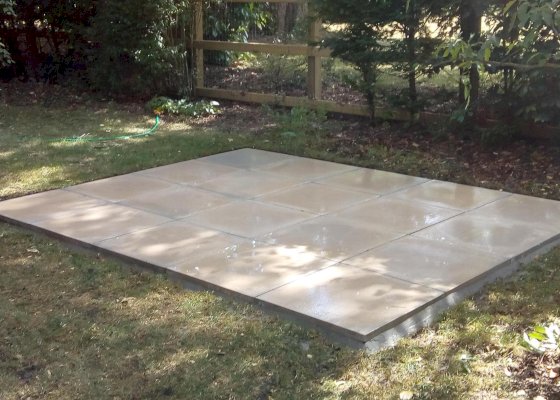 A concrete base with gravel surround for drainage and a ramp at the front.